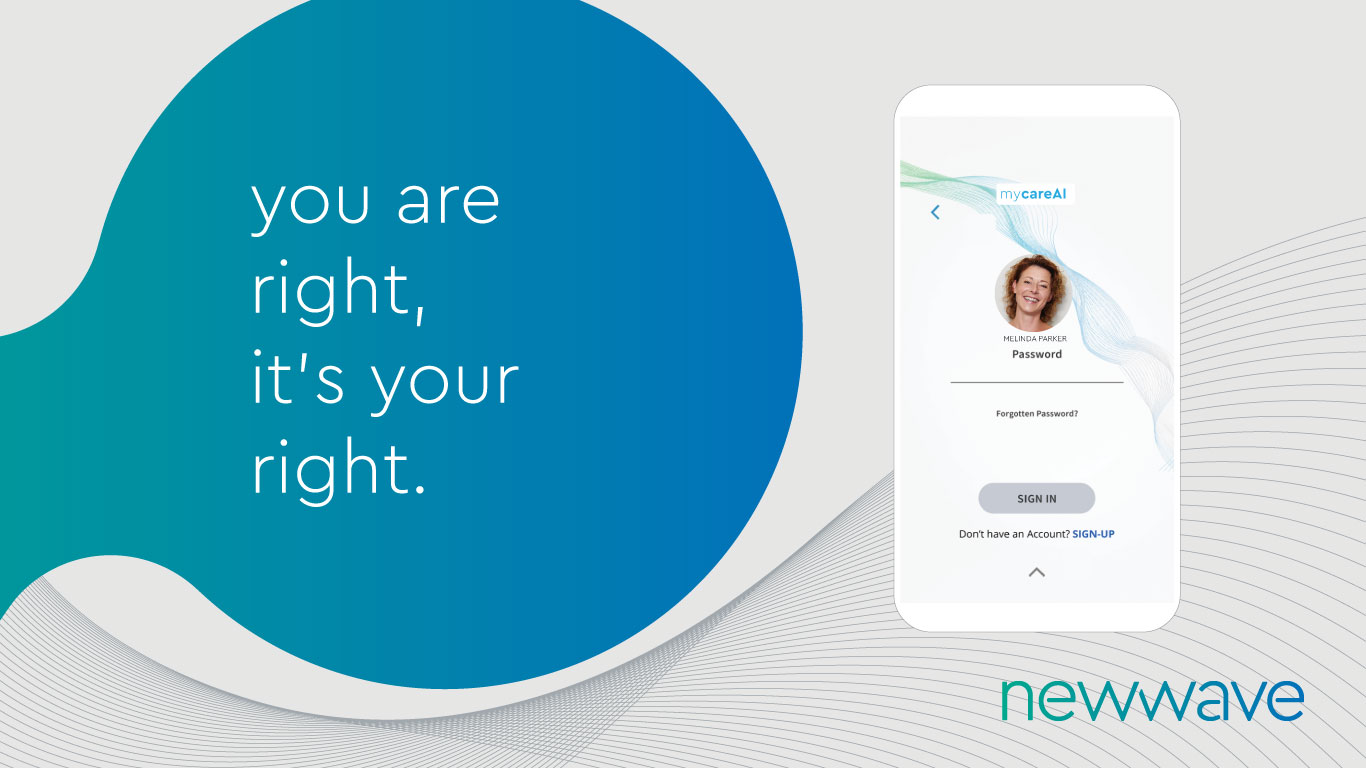 Newwave achieves a major milestone with the introduction of myCareAI, a consumer mobile application that provides the ability for consumers to access both their clinical and health insurance information in one place on the convenience of their mobile devices. Leveraging the recently announced Blue Button 2.0 APIs from CMS – which is leading the country in being the first major payer to make insured EOB information available to its beneficiaries - and Newwave's 21st Century Health Innovation Platform HIMSS Conference attendees will see demonstrations of how the confluence of these capabilities result in innovative opportunities to address some of the most vexing problems in consumer access.
Team Newwave is presenting for the first time, the powerful combination of the benefits of blockchain as an aspect of Consumer Controlled applications in conjunction with the innovative use of CMS' Blue Button 2.0 API.
Newwave CEO, Patrick Munis stated "Newwave feels fortunate to have been a part of the CMS Blue Button 2.0 movement and looks forward to working with all kinds of stakeholders to advance the movement by leveraging this new data source for consumers to make greater contributions to the common good."
newwave has been a participant in the Blue Button Developer preview as part of a core team of developer organizations engaged by CMS to build a developer-friendly, standards-based data API – featuring the OAuth 2.0 based authentication and authorization flow used across the industry to enable consumer access. newwave's SVP of Informatics, Aaron Seib, has been the FHIR CCDE Connectathon Track lead since its inception and is thrilled to see the continued adoption of FHIR for consumer access into the payer domain. "At recent FHIR Connectathons, newwave's team has worked alongside EMR industry leaders like Cerner, Epic, Allscripts and CareEvolution on the Consumer Centered Data Exchange track to implement FHIR-based methods of accessing data into consumer controlled apps, like mycareAI from EMRs. Implementing the same standards to retrieve EOB information from CMS was ease to achieve and resulted in our being able to make a whole new dimension of information available to consumer controlled Apps.
Via the 21st Century Health Innovation platform we are able to establish a provider attribution table that reduces the burden on the consumer in establishing a connection to the EMRs each of their providers. Recognizing that it is common for Medicare beneficiaries to have as many as 9 providers involved in their care in a given year. By leveraging the information found in the EOB we make it easier for beneficiaries to remember everyone they have gotten care from and to connect to those provider's EMRs so that they can get all of their health information together in one place.
For the first time – the wealth of information from a Payer organization is brought together with the related clinical resources from the Provider's EMR – bringing a new dimension to the information that can be made available to consumers in the palm of their hand.
myCareAI is currently in its first beta version. newwave is currently seeking partner organizations that would be interested in its series of planned pilot engagements to continue to mature the application.
Want to learn more about mycareAI? contact us.